Post A Comment
For your Smartphone or Pocket PC
Get weather forecast for full 10 days ahead with this cool plug-in for your Smartphone or pocket pc. Wherever, whichever city you go, get accurate weather predictions online in your mobile. It can be customized fully and is available localized to 11 languages. The
ElecontWeatherEng
can be freely downloaded for a full3 day trial from their website and can be purchased for a very fair price afterwards. It can blend in smoothly with your phone's theme as it can be completely changed in its size and colors. It can give you a comprehensive weather forecast for today or for the next six days including current outdoor temperature, next six days day/night conditions and more.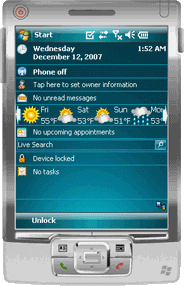 It looks cool with its shining two different skin sets. You can also create your own customized icon sets. Any icon of size 32x32 and bitmap type would do.
ElecontWeatherEng
receives weather forecast using internet connection. It can be activated with your gprs, Wi-Fi or when your device is directly plugged in. It covers over 51000 global destinations and can give accurate hour by hour weather predictions for each of these locations world wide. For the extensive traveler, this will be the right weather plug-in. For download instructions and more details you can visit the
ElecontWeatherEng
website.